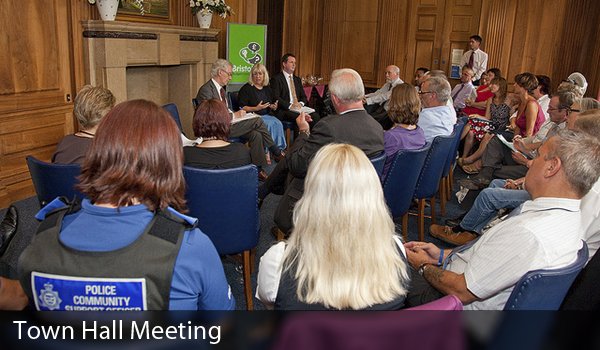 Despite the role of devolution and local government, the UK is still largely a centralized state. Localism and decentralization are seen as ways to address this by moving power and responsibility away from central government to more local levels.
Why localism?
Localism is based on the premiss that local communities differ in terms of what their needs and requirements are. In this sense one size does not fit all. Central government is not seen as in the best position to determine what local needs are or how services should be delivered.
Localism also aims to promote greater accountability. Those responsible for providing local services are closer, and even drawn from, the local community. This leads to greater accessibility and transparency, whereas central governments are seen as inaccessible and out of touch.
It is argued that those closer to local communities are in a better position to know what the needs of those communities are, and therefore services provided at a local level, which are tailored to meet the needs of local residents, are more likely to succeed.
Localism Act
Following the formation of the coalition after the election, the government committed itself to a policy of localism and decentralization. This formed part of the coalition agreement:
"The Government believes that it is time for a fundamental shift of power from Westminster to people. We will promote decentralisation and democratic engagement, and we will end the era of top-down government by giving new powers to local councils, communities, neighbourhoods and individuals."
A Localism Act has passed through parliament. This features several initiatives, including:
Power of competence
Councils have been given a 'power of competence'. Essentially this means they would have the right to do "anything apart from that which is specifically prohibited". The idea is to make local councils more proactive in delivering services which meet the needs of the local community.
Community right to buy and run local services
Local community organizations, such as parish councils or voluntary groups, now have the opportunity to buy and run services for the benefit of their local community. This may include local shops, post offices or leisure facilities.a
Local referendums
Referendums can be triggered by citizens on any local issue. Although the results will not be binding, councils will have to consider the results. In addition, referendums are automatically be triggered by proposed council tax rises above a certain threshold.
Click here to listen to 'Council Tax rise veto' announcement from Local Government Secretary, Eric Pickles.
Local governance arrangements
The Act proposes mayors for 12 cities from 2012 should local people decide they want them in a referendum. Councils will also have the right to revert to the 'committee' form of governance instead of the mayor and cabinet model. Procedures for setting senior council officers' pay would also have to be formalized.
Development
The Act aims to make sure local communities have more of a say in the planning and development. To do this regional housing targets are abolished and the opinions of local communities would have to be taken into account in large-scale developments. The bill also proposes to give communities the right to develop their own local plans which can be used to inform development in their area. It also introduces the 'community right to build', where if the majority of the local community decide they would like to development in their area this can go ahead without planning permission.
A full overview of what is included in the bill is available on the BBC news website.
Recommended reading
Department for Communities and Local Government. (2010). Decentralisation and the Localism Bill: an Essential Guide. London: Department for Communities and Local Government.
Other resources
The Department for Communities and Local Government is the government department responsible for localism and decentralization policy.
Localis and the New Local Government Network are organizations which seek to promote decentralization and localism and the role of local government and local communities.
The Centre for Policy Studies has produced a 'Magna Carta for Localism'.
Localism Act
Information about the Localism Act can be found on the Department for Communities and Local Government's website.
The BBC news website provides an overview of the main elements in the Localism Bill. The Guardian website also Q & A section about the Act.
The Communities and Local Government Select Committee at parliament focuses on localism issues.
Views about localism are available from the New local Government Network and Localis.
---