Although the UK is a unitary state, many public services are provided at a local level by councils.
Structure of local government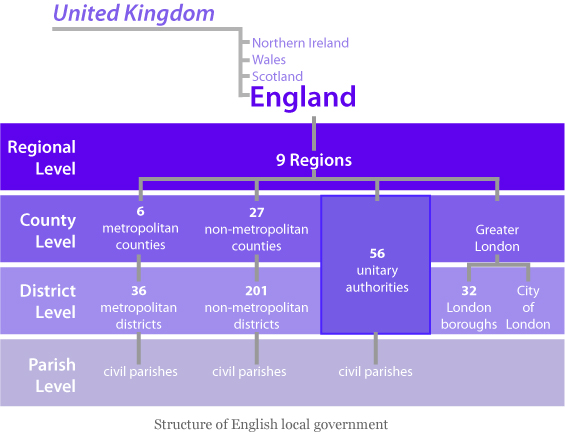 Unlike in many other countries the structure of local and regional government does not feature as part of the British constitution. As a consequence there is little consistency in how local government is structured. The lack of constitutional basis or definition also means that it is subject to change by the government.
Generally speaking, the structure of local government can be split into two broad categories:
Single tier systems.
Two tier systems.
Different parts of the country have different systems in place.
Two tier systems
Most of the country conforms to this model. County councils cover larger geographical areas; local examples include Hampshire County Council and West Sussex County Council. County councils provide most local services, including education, social care and transport.
Counties are then divided into several smaller areas administered by district or borough councils; local examples include Gosport Borough Council or Fareham Borough Council. These councils provide more local services such as housing, refuse and recycling and planning.
Single tier systems
In single tier areas, there is only one unitary authority which takes on the responsibility of local public services. This system is often found in larger cities; local examples include Portsmouth City Council or Southampton City Council. However unitary councils have also recently been created in larger, more rural areas; examples include Durham County Council and Wiltshire Council. Scottish councils also use this model.
Civil parish councils
Many areas are also covered by smaller town or parish councils; local examples include Horndean Parish Council or Petersfield Town Council. These councils have limited powers and are only responsible for very local services such as allotments, car parks and community centres.
Other local government organizations
Other forms of local government organisations are set up to deliver specific services across wider areas. These include fire and rescue authorities (for example the Hampshire Fire and Rescue Service) and national park authorities (for example the New Forest National Park Authority).
Governance
Local councils are run by councillors who are elected by the local population to represent them and make decisions at the council (the exception to this is the City of London Corporation, where, in addition to various other unique governance arrangements, local businesses also get a vote). Councillors make the decisions at local councils, leaving local government officers to implement them and provide services.
Governance arrangements vary between different councils but generally speaking fall into one of two categories:
Leader and cabinet model.
Elected mayor and cabinet model.
Leader and cabinet model
Under this model the leader of the largest political group elected to the council is usually appointed as leader of the council. The leader will then appoint a cabinet which is responsible for the overall policy and strategic direction. The leader and cabinet make recommendations to all councillors for the adoption of policies. Local examples of councils adopting this arrangement include Portsmouth City Council and Havant Borough Council.
Elected mayor and cabinet model
Under this model a mayor is elected directly by local residents to serve a four year term. Unlike the leader and cabinet model, the mayor is not a councillor. The mayor then appoints a cabinet, drawn from councillors, who make decisions. Examples include Bedford Borough Council or Torbay Council.
Scrutiny
The majority of councils have an overview and scrutiny arrangements place. This can take the role of one committee covering all policy areas or several committees looking at specific policy areas. The role of overview and scrutiny is to provide a system of checks and balances in local councils. Committees hold cabinet and other decision makers to account by scrutinizing decisions made. Committees also have a role in advising policy development, monitoring council performance and scrutinizing external bodies, for example health authorities.
Funding local government
Local government authorities are funded from three sources:
Government grants: grants from central government form the bulk of local government funding.
Council Tax: around a quarter of local government finance comes from the council tax. This is a local tax levied on local residents. The level is set by the local council each year, but the actual amount paid this is affected by the value of the property and household circumstances.
National non-domestic rates: also known as business rates, are levied on business and other non-domestic premises. The level is set by the government and affected by the 'rateable value' of the property in question. Although councils collect business rates the money does not directly go to them. Instead it is passed to central government who redistributes it to local authorities.
Recommended reading
Greenwood, J. (2002). New Public Administration in Britain (3rd ed.). London: Routledge.
Wilson, D., & Game, C. (2006). Local Government in the United Kingdom (4th ed.). Basingstoke: Palgrave Macmillan.
Local Government Studies is an academic journal governing local government, policy and public administration issues (University of Portsmouth login is required to access content).
Other resources
Basic information about the structure and responsibilities of local government is outlined on the GOV.UK website. This website also has a list of all councils and their details.
The Department for Communities and Local Government is the government department responsible for local government affairs.
The Local Government Association seeks to represent local government at a national level and acts as a pressure or interest group attempting to influence government policy on local issues.
The New Local Government Network is a think tank promoting local public services, public service reform and decentralisation.
The Audit Commission is the body responsible for monitoring and auditing local government (until they are disbanded in 2012). They also produce research reports on issues affecting local government policy.
The Local Government Ombudsman handles complaints about local government services made by citizens.
The Institute for Local Government Studies is based at the University of Birmingham. They also have a blog discussing topical local government issues.
LocalGov, the Local Government Chronicle and the Guardian's website are all good sources for local government news.
info4local is a resource used to find out information relevant to local government from central government sources. They also have a mailing list.
---